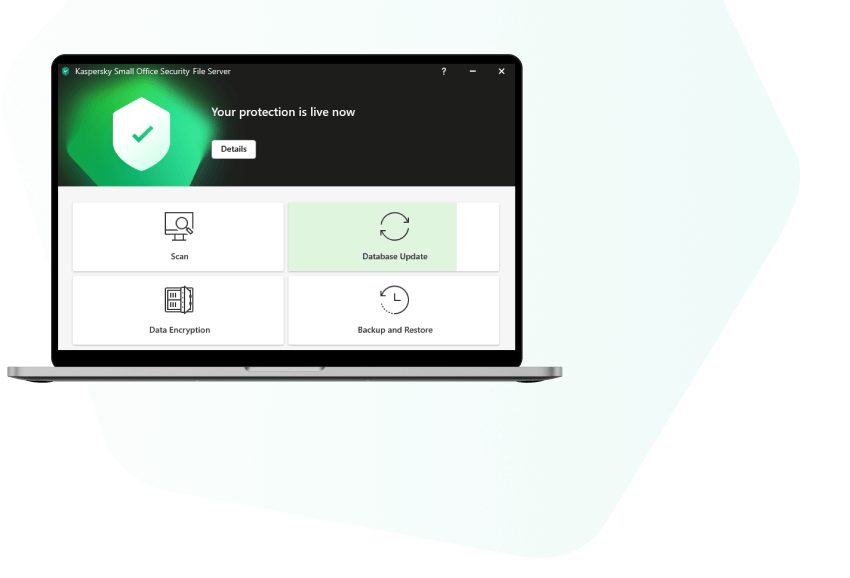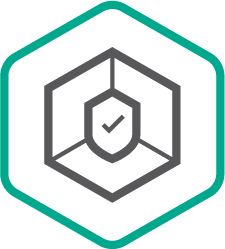 Kaspersky
Small Office Security
Windows®
macOS®
Android™
iOS®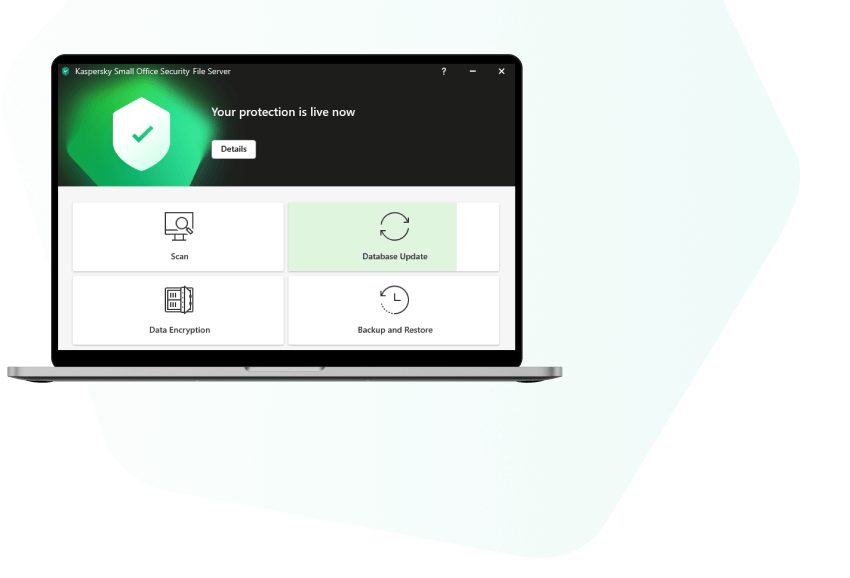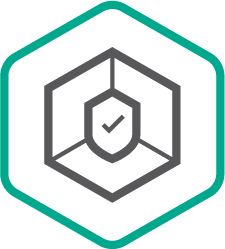 Kaspersky
Small Office Security
Your trust well placed
Last year's stats say it all.
360K
new malicious files detected every day
240K
organizations protected globally
200
countries and territories using Kaspersky
Frequently Asked Questions
No, if you renew your license for the same number of devices, any days remaining on your current license will be added on to your new one.

However, if you change the number of devices, your new license term will only begin once your current one has ended. Add your new activation code to your Kaspersky product as normal and your new license will be activated automatically when your current license expires.
If you are having technical issues renewing your Kaspersky product, take a look at the Activation Errors section of the Knowledge Base. We've written up solutions for the most common renewal and activation issues.
General requirements
1500 Mb free space on hard drive




Processor that supports the SSE2 instruction set




Internet access (for application installation and activation, use of Kaspersky Security Network, and for updating databases and application modules)




Chromium-based Microsoft Edge 77.x – 88.x




Mozilla™ Firefox™ versions 52.x – 84.x




Mozilla Firefox ESR 52.x, 60.x, 68.x, 78.x




Google Chrome™ versions 48.x – 88.x




Microsoft Windows Installer 4.5 or later




Microsoft .NET Framework 4 or later




Webcam access protection is provided only for compatible webcam models



Windows®-based desktops, laptops and tablets
Operating System, Processor (CPU), Memory (RAM)*
Microsoft® Windows 11 Home / Enterprise / Pro


Microsoft® Windows® 10 Home / Enterprise / Pro (TH1, TH2, RS1, RS2, RS3, RS4, RS5, 19H1, 19H2, 20H1, 20H2, 21H1, 21H2)


Microsoft Windows 8.1 Pro / Enterprise (SP 0 and Windows 8.1 Update)


Microsoft Windows 8 Pro / Enterprise (SP 0 or later)


Microsoft Windows 7 Starter / Home Basic / Home Premium / Professional / Ultimate (SP 1 or later)


Processor (CPU): 1 GHz or higher


Memory (RAM)*: 1 GB (x32) or 2 GB (X64)
* Free RAM
Windows file servers – processor and memory requirements
Operating System, Processor (CPU), Memory (RAM)*

Microsoft Windows Server® 2022 Essentials / Standard RTM

Processor (CPU): 1.4 GHz (x64) or higher

Memory (RAM)*: 2 GB


Microsoft Windows Server 2019 Essentials / Standard RTM

Processor (CPU): 1.4 GHz (x64) or higher

Memory (RAM)*: 2 GB


Microsoft Windows Server 2016 Essentials / Standard RTM

Processor (CPU): 1.4 GHz (x64) or higher

Memory (RAM)*: 2 GB


Microsoft Windows Server 2012 R2 Foundation / Essentials / Standard

Processor (CPU): 1.4 GHz (x64) or higher

Memory (RAM)*: 4 GB


Microsoft Windows Server 2012 Foundation / Essentials / Standard

Processor (CPU): 1.4 GHz (x64) or higher

Memory (RAM)*: 4 GB


Microsoft Windows Small Business Server 2011 Standard / Essentials (SP1 or later)

Processor (CPU): 2 GHz (x64) or higher

Memory (RAM)*: 8 GB


Microsoft Windows Small Business Server 2008 Standard x64 Edition (SP2 or later)

Processor (CPU): 2 GHz (x64) or higher

Memory (RAM)*: 4 GB


Microsoft Windows Server ® 2008 R2 Foundation / Standard / Enterprise (SP1 or later)

Processor (CPU): 1.4 GHz (x64) or higher

Memory (RAM)*: 512 MB




* Free RAM




Mac-based desktops and laptops

General requirements


Smartphones and tablets

Android™ 5.0 – 12.х




Minimum screen resolution: 320 x 480

iPhone® and iPad®

iOS® iOS 13.x–14.x or iPadOS 13.x–14.x**

** Only Kaspersky Password Manager is available for these platforms.




All devices

General requirements


Kaspersky Small Office Security includes following applications

Kaspersky Small Office Security for Personal Computer




Kaspersky Small Office Security for File Server




Kaspersky Internet Security for Mac




Kaspersky Internet Security for Android




Kaspersky Password Manager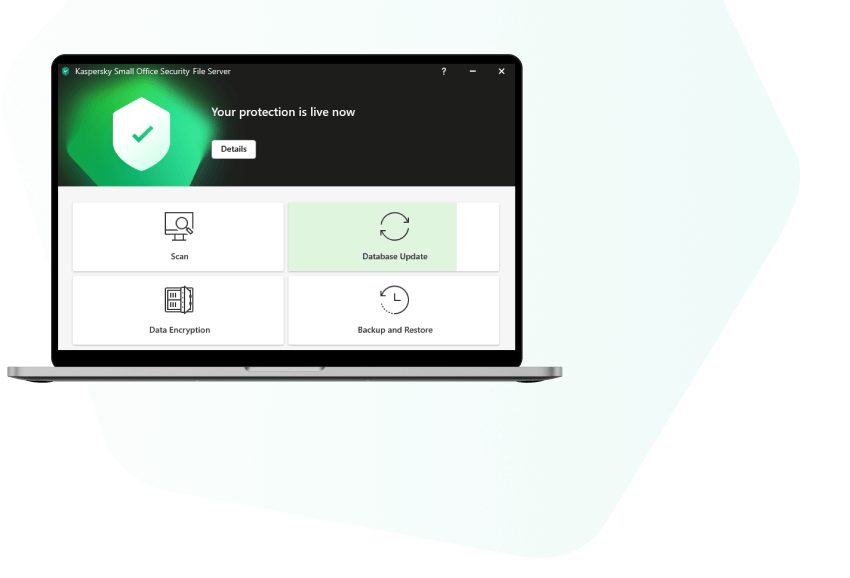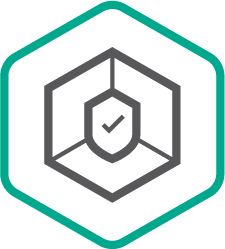 Kaspersky
Small Office Security
Windows®
macOS®
Android™
iOS®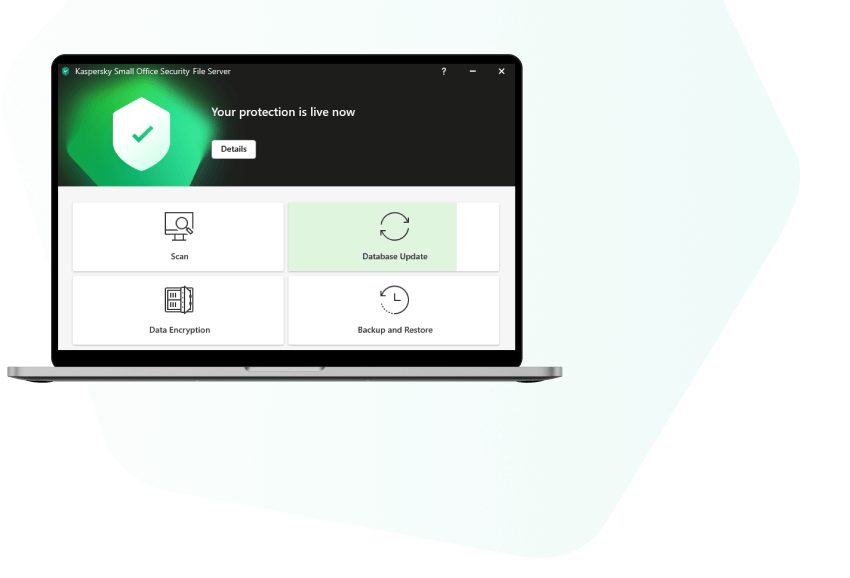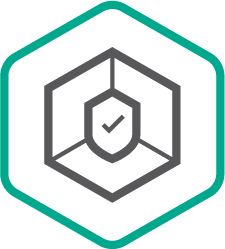 Kaspersky
Small Office Security