Many people rarely use paper money anymore, but the days of pulling out a debit card may soon be behind us, too. With the advent of digital wallets, which take advantage of the power and convenience of smartphones, more consumers are leaving their cards and cash at home in favor of a faster and more secure payment method.
Here's what you should know about phone wallets, along with some recommendations on which solutions are the safest to use.
What are digital wallets or phone wallets?
A digital wallet, eWallet, or phone wallet refers to the same thing: the "wallet" is an app on your phone that stores credit, debit, and gift card information.
For security reasons, a digital wallet does not actually store your card number (except with gift cards). Rather, a phone wallet interfaces with your bank to provide an encrypted connection that allows for payments to be exchanged with merchant providers without actually transmitting your card's information.
Thanks to the unique way in which phone wallets are designed, they hold massive potential for improving security, whether you're shopping online using your phone or paying in-store. However, there are a number of digital wallet solutions on the market today, and they are not all created equal.
If you're thinking about using phone wallets, it is crucial that you do your research and only use a provider that is trusted and transparent. To follow is an overview of the most popular digital wallets along with a glimpse at how they work.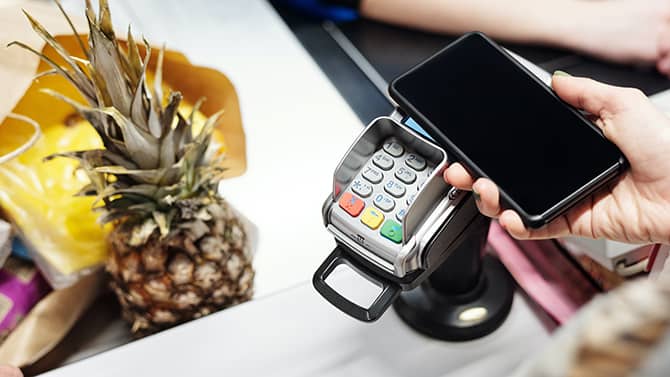 Apple Pay
Apple Pay is one of the most well-known phone wallets on the market, but it is exclusive to Apple devices. If you have an iPhone, the Wallet app is installed by default, and this is the interface that allows you to use Apple Pay.
Depending on the verification method set up on your device, Apple Pay will ask you to use Touch ID, Face ID, or your PIN code when you want to make a purchase. Conveniently, you can use Apple Pay when shopping online on your iPhone at any participating store or website, which includes Best Buy, Airbnb, Etsy, Expedia, and over 250,000 store locations.
Google Pay
With about twice as many users as Apple Pay, Google Pay is arguably much more accessible to the general public because you can install the app on virtually any smartphone, including Android, Apple, and Samsung devices.
Google Pay functions very similarly to Apple Pay and allows you to store debit cards, credit cards, certain branded gift cards, and certain event tickets for easy access. On the surface, it's the same as Apple Pay, just for a wider range of devices. However, some users will like that Google Pay also offers rewards, something that Apple Pay does not.
Samsung Pay
Like Google Pay, Samsung Pay offers users the chance to earn reward points, which they can then redeem for certain prizes, like Samsung gear or even travel. However, Samsung Pay is only available for Samsung devices.
If you have a Samsung device, you'll enjoy a similar feature set to that of Google Pay and Apple Pay, with the ability to store debit and credit cards, membership cards, event tickets, and so on. You can also make peer-to-peer payments, but you'll need to sign up for the free Samsung Pay Cash card to do so, which is a prepaid debit card (meaning you must load it with money before you can use it).
PayPal
Your PayPal account functions similarly to a checking account in that it can hold money, but you can also use it to send and receive money.
Within the PayPal app, you can use your PayPal balance to pay for purchases, or you can treat it like any other digital wallet here by storing your card and bank information. PayPal also offers cryptocurrency now, if you're interested in an all-in-one kind of solution.
Which phone wallets should you use?
If you're trying to decide which of these popular phone wallets you should download, it'll likely come down to two things: accessibility and features.
All of these options offer some sort of peer-to-peer payment feature in addition to letting you buy things online or in-store. However, Apple Pay is only available on Apple brand devices, like iPhones, and Samsung Pay is only available on Samsung devices.
Meanwhile, Google Pay offers rewards and PayPal bundles in a bank account, which may or may not be a preferred feature depending on how you like to manage your finances. Ultimately, all of these phone wallets are known for being highly secure, and they've been developed by trusted companies, so choosing which one to use is truly a matter of preference.
Recommended products when using phone wallets
If you're looking for a digital wallet, you're probably worried about security—and it's a smart thing to keep at the front of your mind. Using a trusted digital wallet app is a step in the right direction, but in reality, today's cybersecurity threats are very complex. To fully protect yourself, it's important to add additional layers of security.
Further reading