APPLICATION
Kaspersky Security for Mobile
An integrated security and management application supporting your mobile device strategy Purchased as part of Kaspersky Endpoint Security.
Overview
True Cybersecurity for Mobile Devices
Kaspersky Security for Mobile covers all major platforms, protecting and controlling your corporate data on mobile devices and securing the device itself. Multi-layered real-time protection is delivered by advanced, proactive and cloud-assisted technologies. Unauthorised access to corporate data is prevented and remote administration enabled in the event of loss or theft.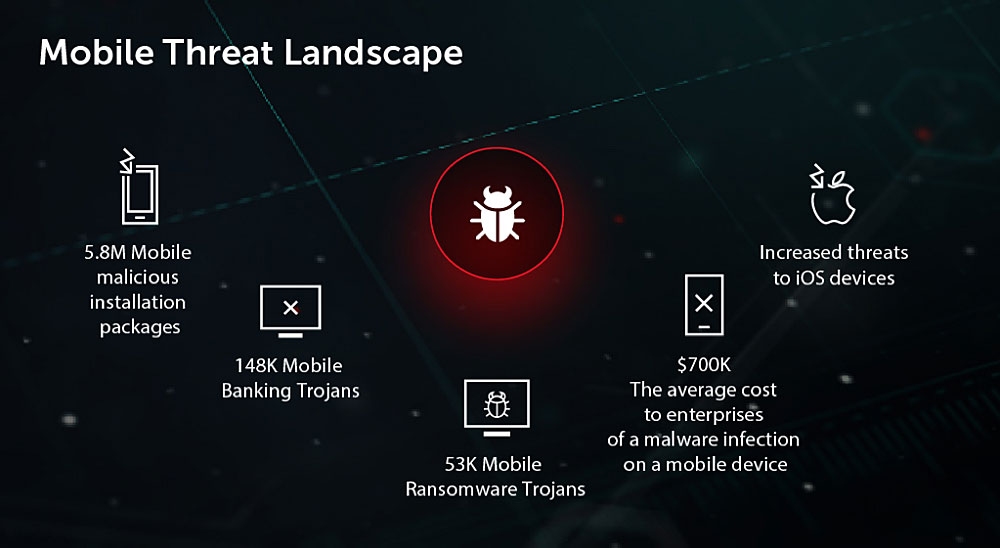 Advanced Protection for Mobile Devices
Anti-malware combines with cloud-assisted threat intelligence and machine learning to guard against advanced mobile threats.

Web Control and Anti-Phishing
Safe web filtering blocks access to malicious and other undesirable websites while powerful anti-phishing technology protects you and your data from phishing attacks.

Integration with EMM Platforms
Implement and manage mobile security entirely through your EMM console (VMware AirWatch, MobileIron, IBM MaaS360 and SOTI MobiControl).

Build your GDPR Compliance
Protect customer and employee data on mobile devices and from attacks using mobile devices to penetrate your databases.
Suitable For
This solution is particularly well suited to addressing the security requirements, concerns and constraints of these enterprise sectors.
In Use
Cybercriminals attack via mobile devices using methods like infected applications, exploiting low security public Wi-Fi, and phishing.
When a user inadvertently visits a malicious website - or a legitimate but infected site - the security of their device and the data stored there is at risk.
Even charging your phone by connecting it to a PC can result in malicious threats passing from phone to computer, and the other way around.

Multi-layered advanced protection for Android and iOS phones in a single platform, allowing unified device control and OTA scanning.
One application for all mobile platforms significantly reduces the time needed to maintain devices, while providing secure access to corporate systems.
Extensive anti-theft features protect business data, even when a device is stolen.

Centralised Mobile Device Management and EMM Integration

All Android and iOS device security can be managed together with traditional physical and virtual endpoints, from a single console.
View data, create and manage security policies, send commands to any mobile or static endpoint and run reports - all from one central point.
Integration with VMware AirWatch, MobileIron, IBM MaaS360 and SOTI MobiControl means that mobile security can be managed entirely through your existing EMM console.
24/7
Premium Support and Professional Services
Professional help is available whenever you need it. Operating in more than 200 countries, from 34 offices worldwide, we have you covered 24/7/365. Take advantage of our Premium support packages, or call on our Professional Services to ensure that you derive maximum benefit from your Kaspersky Lab security installation.
The Threats
Efficient malware protection enables Kaspersky Security for Mobile to proactively protect mobile devices rather than merely isolating a device and its data, delivering the effective security levels critical to combating corporate cybercrime and threats like:
Data leakage through mobile devices

Unmanaged and out-of-policy devices
Get in touch and talk to one of our experts about how Kaspersky can help you protect your business.