Kaspersky SafeStream ll
Kaspersky SafeStream II is a gateway-level stream-based anti-malware technology that provides a way to detect the most dangerous and prevalent threats ("in-the-wild") at wire speed. It represents a balanced trade-o between in-depth security and maximum performance.
By taking full advantage of Kaspersky's infrastructure, including cloud-enabled security intelligence and Kaspersky Security Network, Kaspersky SafeStream II effectively detects malware in all types of traffic (web, mail, P2P, IM, etc.), thus protecting users from the most dangerous cyber threats, including zero-day malware, server-side malware, web-borne malware, drive-by downloads and other types.
It can be effectively boosted by hardware pattern matching engines (widely used for packet inspection in IDS/IPS) from vendors such as Cavium Networks, Intel, Broadcom, LSI, etc., delivering unparalleled wire-speed gateway level anti-malware protection.
Kaspersky SafeStream II is well suited both for small devices and for high-performance mission-critical gateways. It is completely agnostic to software or hardware design and can be successfully implemented on proprietary (non-x86/Linux) platforms.
SafeStream II uses a "protection triangle" of the following malware detection technologies:
Hashes: provides exact one-to-one matching

URLs: enables one-to-many matching of malicious URLs to protect from web-based threats

Byte signatures: enables catching single malware samples as well as malware families by applying special byte sequences identifying malware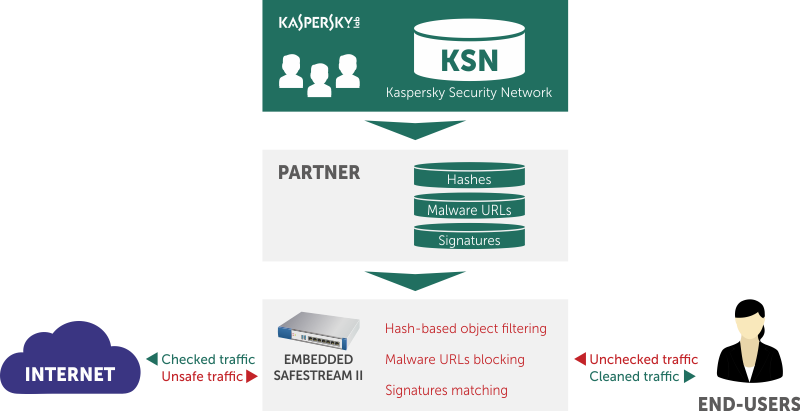 Kaspersky SafeStream II takes advantages of a multi-layered approach, with each layer complementing the others, contributing to the overall security level, and providing protection in any environment. The solution includes a set of detailed security feeds that are continuously updated. Custom intelligence feeds can also be created to provide preemptive security.
Key benefits of Kaspersky SafeStream II:
No object caching required

Enables wire speed malware traffic scanning

Introduces minimal latency even during malware outbreaks

Enables usage of device-native payload preprocessing routines

Guarantees maximum performance regardless of object size and traffic volume

Optimal for use in low-to-high end network devices

Can be accelerated by hardware pattern matching engines
Contact Us
If you wish to know more, please click the CONTACT US button below and indicate that you require more information about Kaspersky SafeStream ll, and our representative will get in touch with you shortly.